Guitar Foundation of America online archive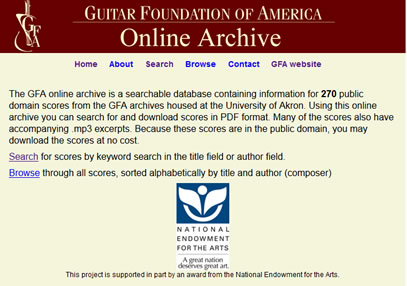 The Guitar Foundation of America (GFA) online archive is a search-able database containing information for 270 public domain scores from the GFA archives. Guitarists can search for and download scores from the GFA archive in PDF format and listen to many of the scores with accompanying .mp3 excerpts.
To make this project possible AVIarts had to obtain data for each score that is stored in the University of Akron library catalog.  AVIarts exported 270 Library MARC formatted records from the University of Akron Library online catalog collection and converted these records into a MySQL database for use in the web site.  AVIarts developed all aspects of the web site, database and php application for searching and managing the content.  The University of Akron provided the PDF scores and MP3 excerpts.  This project was funded by a grant from the National Endowment of the Arts.
Site Development: AVIarts Ltd.